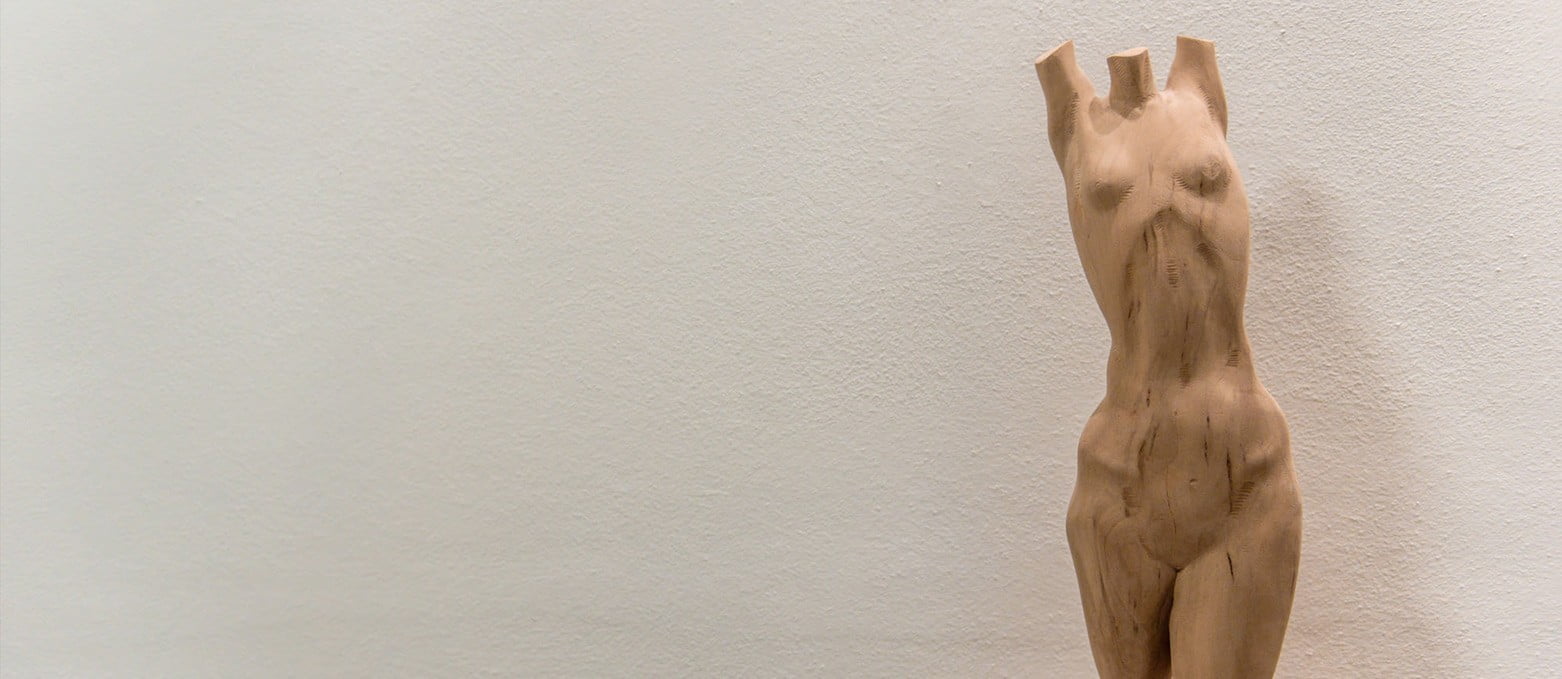 Two girls greet you at the doors. The daughters of Hotel Tirler. "Now they are bigger," says hotelier Hannes Rabanser. In 2014, when the life-size wooden sculptures were created, the girls were eight and nine. Twice a week they drove to Val Gardena to model for sculptor Andrea Kostner. Now they are spellbound forever. Father Hannes had the idea. Sandra and Hannes Rabanser tripped up time: They wanted to enjoy a certain moment in the lives of their daughters. First only sometime in the future.
"I always thought: how would it be if I, as an adult, stood next to myself as a child," says Hannes Rabanser. He just has to wait and see what his daughters will eventually think of it.
Wood becomes art that you can encounter at Hotel Tirler in front of the fireplace, in the corridors, by the pool or on the walls. Hannes Rabanser has been familiar with Val Gardena woodcarving since he was a child. He grew up in Urtijëi, where Unika gathers artists and artisans of the Val Gardena who make originals out of wood. There are currently 40 members. Filip Moroder Doss was president of Unika when Hannes Rabanser met him while paragliding. If you want, you can now exhibit your works at Hotel Tirler. And if there is no other way and a hotel guest looks into a sculpture or a relief, then a solution will be found…
South Tyrolean wooden artists are at home Val Gardena. Already in the 17th century people were carving here. The valley was secluded, life barren, winter long. By carving, the Val Gardena residents wanted to alleviate poverty in their families. In addition to religious motifs, they soon also made toy figures made of fragrant Swiss pine wood.
They used to carve in the parlor. From child to grandfather, everyone in the family had their job. Like on the assembly line. Around 1850, up to 2,500 carvers worked in Val Gardena, meaning that every second Val Gardena resident carved. The wood consumption was so great that the authorities seriously worried about the Swiss pine tree population of the valley. At the end of the 19th century, the first art and wood carving schools were built, but there was hardly any mention of unique pieces. That changed in 1994 with the founding of Unika: suddenly, the original of the wood artist achieved new value.
You will see a Val Gardena carver in our Hotel Tirler. Every year he moves to the Seiser Alm in summer. For 15 years already. He is well over 70 now. "He cannot stand it in the summer in his workshop down in the valley," says Hannes Rabanser. On the lawn in front of the hotel, you can watch how the figures of a real Val Gardena nativity scene are gradually created under his hands.
You have no idea, however, who is modeling in his mind's eye. Maybe you'll find out?